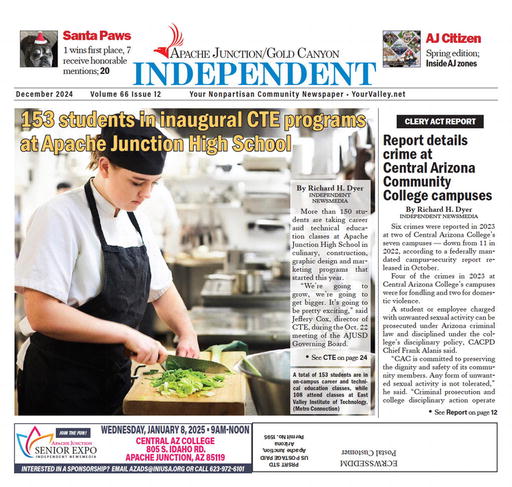 Life is good in the proud "old west" city on the east end of the Valley.
It's a great place to raise a family or enjoy the retirement lifestyles, with magnificent views of the Superstition Mountains. Its old west lifestyle coupled with modern amenities.
The Apache Junction/Gold Canyon Independent, the community leading news and advertising source for over 40 years now delivers 35,000 copies monthly by mail to this fast-growing area.
Contact
Address: 23043 N. 16th St., Phoenix, AZ 85077
Phone: 623-972-6101
Email: Visit our contact page for a complete list of email contacts.
Social Media: Follow us on Facebook and Twitter.
Marketplace: Shop ads from our print edition.
Print edition
Mailed monthly; free circulation. Visit our online subscription center for more information.
Delivery questions or problems? Send email to our customer service team.
E-newspaper
Our free e-newspaper is a digital replica of the print edition. Read the latest edition.
Advertising
Classified Advertising: FREE online classifieds. No limit on the number of ads. Up to 400 words and four photos free. Many options to upgrade your ad or publish in print. You can submit your ad online or send email to our classified team for more information.
Display advertising: Send email to our sales team or our billing team, or download a rate card for information about the Apache Junction Independent and other Independent Newsmedia Inc. publications in the Phoenix area.
Archives
The Apache Junction Independent's online archive contains staff-written and other selected articles from 2007 to the present. Searches are free. You may purchase individual articles for $2.95 or select a package for multiple articles.